Off-season Training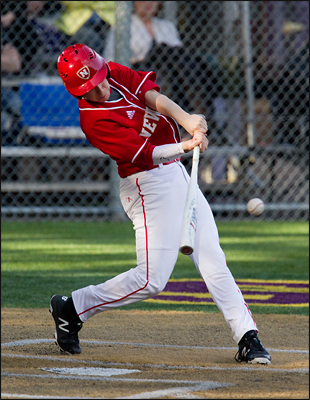 Jason Cobert squares up a ball at Issaquah last season.
Photo Credit: Ronnie Allen
Open Field
Grab your baseball gear and get some reps in. Open to all returning and prospective ballplayers. Bob Albo Field on Wednesdays from 1:00 - 3:30pm and Fridays from 3:00-4:30pm.
Weight Training with Coach Kim
Baseball-specific training with one of the best. In the weight room. Mondays from 5:30-6:45pm, Thursdays 7:00-8:30pm. Starts Monday, Oct. 8th. All returning and prospective ballplayers welcome.
Newport Baseball Alumni
We set up an alumni group so everyone can stay better connected to each other and the program. Information about future alumni events will be posted here as well.
Knights in Baseball
Todd Hollandsworth

1991 alum and 1996 NL ROY is a broadcaster for the Miami Marlins.
Tripper Johnson

2000 alum works for Sosnick Cobbe as a baseball agent.
Ron Romanick

1979 alum is the Mets minor league pitching coordinator.
Greg Goetz

2002 alum is the pitching coach / recruiting coordinator at Seattle University.
Jeff James

2002 alum currently coaches with former head coach Brian Fischer at Notre Dame Prep in Arizona.
Jason Kim

2005 alum spent two years as Newport freshman head coach before joining varsity as assistant in 2016.
Jared Fisher

2011 alum is the Knights varsity pitching coach.
Jordon Franklin

2006 grad was named head coach of the freshman team in 2017.
Bill Sahlinger

2012 grad joined the Knights' staff as JV assistant in 2018.
Brad Files

1988 grad joined the Knights' staff as Var assistant in 1997 and took over the head coaching duties in 2014.

LAST GAME
1
2
3
4
5
6
7
R
H
E
Issaquah
2
0
4
0
0
0
7
13
13
0
Newport
0
2
0
1
1
0
0
4
8
1
(N) Shinjo, Zakrzewicz (3), Harper (6), Holden (7) and Steinberg. (I) Buckner and Mahovlich. W: Buckner L: Shinjo SV: Highlights: (N) Cobert 2-3, 2B, RBi, 2 R; Nimmo 1-2, 2B, RBI; Steinberg 1-3, 2B, R; Gants 1-4, HR, RBI, R.
Game Recap
---

Legendary Coaches
The pursuit of excellence and tradition instilled by former head coaches Bob Albo and Brian Fischer survives today.
Bob Albo Field
Named after the legendary coach in March 2012, Bob Albo Field is one of the best high school baseball facilities in the state.

---